Refrigerator Repair
Refrigerators are a unique home appliance because you depend on them to work around the clock. When your Maytag, GE, or other brand suddenly stops maintaining a safe temperature for your family's food, it's vital to get the appliance fixed right away to reduce the risk of bacterial growth and foodborne illnesses.
The solution to your refrigerator repair problems is Tristate Refrigeration Appliance & Service Repair. With 11 years of experience and a commitment to providing the Jersey City area with dependable refrigeration repair, we're the licensed, bonded, and insured pros you can count on when the clock is ticking!
Call in our professionals for a wide range of fridge problems and get the best solution for your appliance's malfunction. After diagnosing and fixing countless refrigerators over the years, we've found that most refrigerator repair issues can be correcting by replacing one of following parts:
Condenser fan
Evaporator fan
Door seal
Thermostat
Door switch
Defrost timer
Coolant
Compressor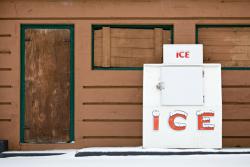 At Tristate Refrigeration Appliance & Service Repair, we have the know-how to pinpoint the cause of your refrigerator problem and get it fixed promptly. As one of the fastest and most affordable refrigerators repair companies in town, we not only provide you with quick service when you need it most, but we also strive to keep our prices as budget-friendly as possible. We're a local, family-owned business and we understand the need to keep expenses under control. That's why we do our part to keep your refrigerator repairs as economical as we can. Delivering value is one of the many qualities that set us apart from other refrigeration repair companies in the Jersey City area.
Whether your refrigerator is leaking, making loud noises, or failing to keep your food safe, give us a call at the first sign of trouble. We can resolve everything from refrigerator problems involving interior lights that won't go out to excessive cooling of fresh vegetables and even clogged refrigerator drains. Offering a comprehensive range of refrigerator repair solutions, we'll get your fridge back to running smoothly ASAP.
Your Fridge Repair Experts
Our skilled technicians are EPA certified in refrigeration repair and have over a decade of on-the-job experience troubleshooting and restoring refrigerators to their full operating capacity. We're well versed in all major brands and models of household refrigerators, so you can rely on us to get your unit working like new in no time. Our fridge repair pros take pride in the quality of our workmanship and stand behind it with a 30-day warranty on labor and parts.
When you choose Tristate Refrigeration Appliance & Service Repair to handle your Maytag or GE refrigerator repair, you can do so with complete confidence. Our fridge repair experts also have tons of experience in fixing other leading brands of refrigerators, freezers, and ice makers, so call or e-mail us right away if you have any problems.