Washing Machine Repair
If you're a homeowner, one of the last things you want to do is bundle up your dirty laundry and haul it over to the neighborhood laundromat. However, when you need washing machine repair, that may be your only choice. The easiest way to avoid unexpected trips to the laundromat is to have our phone number handy at all times. At Tristate Refrigeration Appliance & Service Repair, our professional laundry machine repair service is not only one of the fastest in the Jersey City area, but we're also among the most affordable.
As a locally owned washing machine repair service, we take pride in our low prices, superior customer service, and fast turnaround time. We understand what an inconvenience it can be to have a washing machine that's out of commission for any period of time, so we make it our business to provide washer repair as quickly as possible.
Affordable, Effective Washing Machine Repairs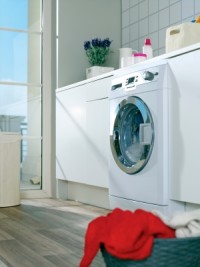 Are you considering just throwing in the towel and buying a brand-new washing machine? If so, you might want to give serious thought to a more affordable alternative: getting washing machine repairs on your existing appliance. In all probability, the only thing standing between you and a perfectly functioning washing machine is one worn-out part.
When you turn to our washer machine repair experts to fix your appliance, the solution is usually quite affordable and involves the replacement of one of the following parts:
Water pump
Lid switch
Timer
Water level or temperature switch
Water inlet valve
Drive belt and pulleys
Motor
With 11 years of experience in the home appliance and washing machine repair business, we're able to quickly troubleshoot the problem and get your washing machine working like new again in no time. We also offer a 30-day warranty on parts and labor. When we repair your washing machine, we stand behind our work 100%!
Budget-Friendly Washer Repair
Why go through the hassle of high prices, long waits, and marginal service when you can get just the opposite from our local washer machine repair professionals? We value your business and work hard to provide customers with the best value in town. When it comes to washer machine repair, there are few companies in the Jersey City area that provide the same level of quality workmanship and economical pricing as Tristate Refrigeration Appliance & Service Repair. Whether your washer is refusing to spin, drain, or fill with water, we know how to fix it. Give us a call today so we can make your laundry machine repair problems a thing of the past!