DrySafer Dryer Lint Alarm
Wouldn't it be wonderful if you had an advance warning system to tell you when you're in serious danger of a dryer fire? Well, now you do! Thanks to the DrySafer Dryer Lint Alarm, you can monitor the exhaust performance on every dryer load and protect your home and family against the potential fire hazards of insufficient airflow and excessive lint accumulation.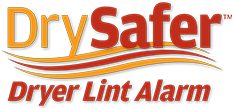 As a trusted dryer repair company in Jersey City, Tristate Refrigeration Appliance & Service Repair is proud to be a dealer for this simple yet innovative safety device. Since clogged dryer vents cause thousands of household fires each year, it's essential to keep tabs on the condition of your dryer's exhaust system so you know when airflow is restricted and your appliance is overheating. The DrySafer Dryer Lint Alarm makes fire prevention possible by alerting you when the temperature inside your dryer's exhaust ducts reaches above 210 degrees.
Easy to install and designed to work on any virtually type of clothes dryer, gas or electric, the DrySafer Dryer Lint Alarm is an efficient and effective safety device no homeowner should be without. The battery-operated unit consists of two parts: an airflow temperature sensor installed in the exhaust vent on the back of your dryer and an alarm module that sounds a warning when an obstruction in your dryer vent is detected.
DrySafer Comes With a One-Year Warranty
To have our experienced professionals safeguard your laundry room with a DrySafer Dryer Lint Alarm, contact Tristate Refrigeration Appliance & Service Repair as soon as possible. In the Jersey City area, we're your source for affordable and dependable home dryer appliance service. Our DrySafer installations are no exception. They're even backed by our 30-day labor warranty, as well as a one-year manufacturer's warranty. Prevent dryer fires before they occur: Give us a call today!